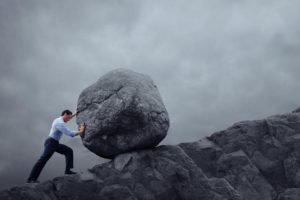 REGULAR EXERCISE MAY HELP RESTORE AUTOMATIC CONTROL OF HEART RATE AND BLOOD PRESSURE ABNORMALITIES. THE POTS PATIENT WILL NEED AS MUCH SUPPORT AS THEY CAN GET FROM MEDICAL CONTACTS AND FAMILY AND FRIENDS TO FIGHT THIS EPIC BATTLE BUT IT CAN BE AND HAS BEEN DONE.
When the automatic control system of the heart and blood pressure circuits begins to function abnormally trouble can result. Very disabling  signs and symptoms that we call POTS or Postural Orthostatic Tachycardia Syndrome can thus be diagnosed. The resulting changes in the person's life can be profound and devastating – leading to a situation where any brief period of sitting or standing can result in a racing heart and shortness of breath. This may quickly reach a point where the person feels forced to remain in the horizontal position for most of their day.
The abnormal activity of the automatic systems can force the POTS patient to become very sedentary. Others will initially find it very hard to understand why their previously normal, highly functional and extremely active wife or mother can no longer get up and take care of her home and family and job.  A vicious spiral of tachycardia, breathlessness and fatigue can lead ultimately to superimposed physical deconditioning. Giving a name to the symptoms that a person is experiencing is a crucial first step toward recovery and a return to the activities and interests that they love.
During this time before POTS has a name, the person has often become increasingly sedentary and incapacitated by the invisible feelings of lightheadedness when they attempt to move and profound fatigue in the aftermath of something as simple as taking a shower. The cycle of deconditioning begins as they go from vigorous, energetic "movers and shakers" to less and less able to use their bodies without paying a serious toll of pain and fatigue. This is particularly discouraging when it happens to a person who has taken great pride in their seemingly boundless energy and enthusiasm and who suddenly finds themselves unable to keep up even a modest schedule of work and family activities.
Studies over years have repeatedly affirmed the saying "use it or lose it" when it comes to physical capacity. We all know from experience that if you want to become a marathon runner, you start out by becoming a serious walker and then running short distances and then longer and longer distances until you gradually develop the aerobic capacity and the stamina to go the full distance. But the process of training also teaches us that "fitness cannot be stored" and if we do not do it regularly we will lose it.  The extended rest periods necessary to cope with the absolute essentials of daily living may exacerbate this trend. THIS IS IN NO WAY TO BE CONSTRUED AS LAZINESS OR DEPRESSION OR AVOIDANCE OF RESPONSIBILITY.  It is rather the insidious PHYSICAL reality of muscles that will no longer cooperate on split second demand or joints that hurt and swell and hearts that race for no good reason.
Some relative degree of improvement is almost always possible in POTS and the positive stories of those that have recovered provide hope to those that are seeking to recover their lives and their dreams. Finding a physician that understands the changes that have occurred and is able to guide the patient on the pathway toward recovery is a crucial first step in taking back control of your lives.